Since 2017 we have been donating food, hygiene and baby products, and festive treat items to the County Durham food bank, operated by Durham Christian Partnership, supported by the Trussell Trust, to support their Christmas time food bank drive.
Due to the success of our previous campaigns, this year we expanded our network to cover a number of additional local food banks, family centres and One Point Hubs to provide an even more localised level of support to our communities.
As part of our 2019 campaign we again looked to the support from our own staff but additionally made a strong focus for contribution from our key contract partners.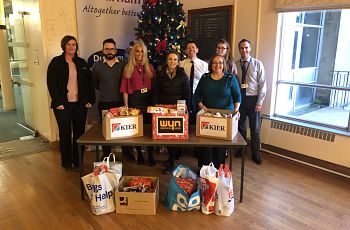 Over the last month we have had a number of responses from our contracted supply base who wanted to support our scheme and further advertise our initiatives with food banks within their own organisations.
We are pleased to confirm that we have had our most successful year yet, with Park Electricals, MGL/Raintons, Premier Traffic Management, Lloyds Bank, Hogarth Coachworks, Thomas Owen Clothing, Freemans Butchers, Kier and Wyn Construction all making generous donations of cash and festive food to the food banks.
The contributions we have had is another indication of the local community support and social value commitments delivered with our contracted supply base.