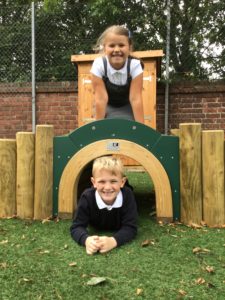 The play space framework has helped to deliver over 175 play spaces across County Durham, we have worked with a number of partners including town and parish councils to provide opportunities for children's play and develop children's play.
The framework requirements are delivered by five qualified contractors with a proven record in the provision of:
design, supply and installation of play space refurbishment
supply and installation of play space refurbishment
supply only of play equipment
safety surfacing replacement
corrective maintenance to manufacturers equipment
The contractors are required to undertake consultation with the local community and reflect the feedback in the design of play spaces. The designs must also reflect the natural landscapes of County Durham and the context of where the play spaces are sited on a project by project basis.
Customer Benefits
compliantly procured play space framework
professionally contract managed by our Clean and Green team
health and safety requirements fully addressed within framework provision
consultation with the local community in the design and development of each individual play space project
local community fully engaged and included in the decision-making process
competitive solution with five suitably qualified contactors
Geographical Access
The play space framework can be accessed by County Durham schools and academies.