Our on-site support service provides a range of on-site support from a single session through to full time delivered by highly qualified, skilled staff.
Shared engineer service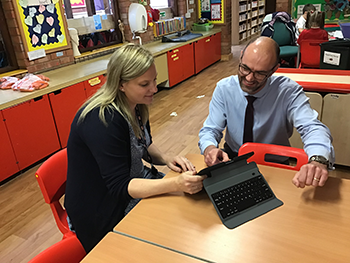 Our team provides customers with an experienced onsite ICT engineer on the desired frequency.
The service consists of ICT school services personnel who are experienced, knowledgeable and skilled in the management of ICT systems and a vast range of support functions to allow your staff to focus on their primary role.
This cost-effective, flexible service is designed to meet the needs of your school.
Engineers are available from half a day per fortnight to full-time onsite support depending on your needs.
What is included:
a scheduled on-site visit by a named ICT engineer delivering maintenance tasks including system security and application updates and integrity
assistance with safety, security and compliance advice and procedures
maintenance and monitoring of back-up solution
installation and maintenance of supported anti-virus solutions
an annual ICT review meeting provided to head teacher and senior staff
Fully managed ICT service
We offer a fully managed service delivering an all-encompassing ICT support solution designed specifically for schools.
Our team provides an appropriate level of qualified and experienced staff to deliver the ICT solution to manage all aspects of a school's ICT from local area network and end-user device management to the provision of onsite ICT personnel and third-party supplier communication including repairs, parts and maintenance.
This is a bespoke service for each situation, talk to us for more details.
What is included:
onsite staff as appropriate
ICT equipment installation and maintenance
ICT network maintenance and development
administration of server networks
onsite repairs and diagnostics
safety, security and compliance maintenance
software installation
mobile device management
interactive whiteboard / panel software updates and advice on use
projector filter cleaning
termly account meeting with head teacher and/or business manager
Regular ICT review meetings provided to head teacher and/or business manager