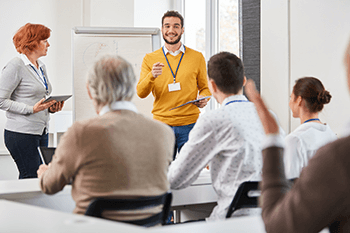 We provide Governors/Trustees with a flexible, value for money, centralised, in house and online training and development programme which takes account of statutory and legal requirements and national/local developments in leadership and governance.
Our key aim is to support the development of skills and understanding across the three core governance functions:
Setting the strategic direction – ensuring clarity of vision, ethos and strategic direction
Creating robust accountability – holding leaders to account for educational performance and the performance management of staff
Overseeing financial performance – ensuring solvency and effective financial management
We have a blended approach to training and development to ensure we meet the needs of all Governors/Trustees. We offer:
We are developing our online and virtual training offer and podcasts, to ensure there is a method of delivery and access to training to suit all needs.
Our courses
Academic year 2021-2022
Contact the training team to receive the most recent edition of the 2021/22 Governor training programme and options for bespoke training for your school or trust by contacting us.
Service Level Agreements (SLA)
We offer three different SLA options:
Unlimited attendance at centralised sessions detailed in the Training & Development Programme
Provision of one in house bespoke session
Unlimited attendance at centralised Induction training, Taking the Chair/Leading Governance and Safer Recruitment (£50 charge for attendance at any other sessions per Governor)
Provision of two in house bespoke sessions
Membership of NGA Learning Link Online Training
Attendance at 15 centralised sessions from the Training and Development Programme (Charge for attendance at any other sessions above the 15 £50 per Governor)
Provision of one in house bespoke session
Membership to NGA Learning Link Online Training
Schools and academies who have not purchased an SLA, can 'pay-as-you-go' for centralised sessions or in-house bespoke sessions. Please contact us for a quotation.
Details of how to book and our cancellation policy can be found in the Training and Development Programme above or please contact us by email.
Governance events
We also organise governance events such as the 2019/20 conference:
This was our first Governance Conference.  It was held at Ramside Hall Hotel and was sold out, with 145 Governors in attendance and a significant waiting list.  It provided a unique and outstanding opportunity for professional development. The day comprised of presentations from two prestigious keynote speakers and a highly successful Chair of Governors and her Headteacher.
Keynote Speaker 1 - Laura McInerney - Educational journalist, former teacher, Governor, co-founder of Teacher Tapp app, columnist for The Guardian and has written for the Observer, the New Statesman,
The TES, and Prospect. Regular contributor on Radio 4's Today, Radio 5 Live, BBC London, LBC, Talk Radio, and Sky News. Laura spoke about current government education policies and their potential impact on the education system and funding.
Keynote Speaker 2 - Simon Weston CBE - Overcoming adversity and displaying a positive mental attitude. Simon Weston, Welsh Guardsman, was on board the RFA Sir Galahad when it was destroyed during the Falklands War, in 1982. Simon was severely injured, sustaining serious burns to 46% of his body. Simon spoke about achievement, triumph in the face of adversity, and of seizing the moment and succeeding.