The physical activity and well-being in Education podcast from Education Durham – a podcast for school and education colleagues in County Durham and beyond.
Hosted by Kate Stephenson (Education Development Adviser and Physical Education Specialist), our termly episodes bring to school and education colleagues topical updates and discussions designed to inform and inspire.  Each episode will explore a different topic with the help of knowledgeable guest speakers.
With an informal and accessible approach, our short half-termly episodes are designed for busy school staff and educationalists wherever they are.
Want to know more, or have a suggestion for a future topic?  Please contact us cpd@durham.gov.uk
Subscribe to our podcast.
---
An introduction from Kate
4.5 minutes | 2 August 2021 | Introductory Episode Transcript
---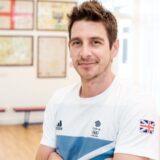 2. Triumphs and learnings
45 minutes | 19 November 2021 | Episode Two Transcript
Recorded topically after the success of Team GB at the Tokyo Olympics, in this very special episode, Kate is joined by guest Chris Cook, former Olympic GB Swimmer, Commonwealth, World Championship, and Commonwealth Games champion and well-known ambassador for school swimming. Chris shares his experience of performing at such a top-level, the triumphs, difficulties, and learnings from his swim career and together Chris and Kate explore the personal development opportunities that quality PE, School Sport, and Physical Activity can offer for children and young people, as well of course about the much needed 'learn to swim' opportunity for all.
---
1. Look back to look ahead
42 minutes | 24 September 2021 | Episode One Transcript
In this episode, Kate talks to the chair of The Association for Physical Education (PE) Sue Wilkinson about the Primary PE & School Sport Premium, school compliance, and understanding of developmental needs, as they consider the new term ahead and reflect upon a difficult and challenging year for the teaching profession. This episode was recorded in July 2021.