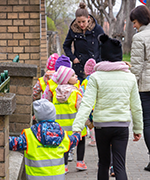 A school lockdown procedure is intended to help support the safety and welfare of pupils, staff and visitors during any incident that is believed to pose a risk to people within the school.
These can include:
access or attempted access by person(s) with malevolent intent
volatile behaviour within the school from pupils, staff or visitors
sudden severe weather conditions
nearby fire or dangerous substance leak
dangerous animals within the school grounds or nearby area
social unrest outside the school
Developing an effective lockdown procedure will help ensure your school is prepared to respond to these types of incident at any time of the day.
What support can we offer?
We can work with you to develop an appropriate lockdown procedure that is suitable to the needs of your school buildings, grounds and resource availability.
We will help develop a bespoke plan which details:
high and low vulnerability areas
effective notification procedures
coordination and incident management processes
roles and responsibilities
lockdown methods
Summary of services
site assessment
plan development
staff training
practical exercise (staff only)
For more information or to discuss your requirements and request a quote please contact us.