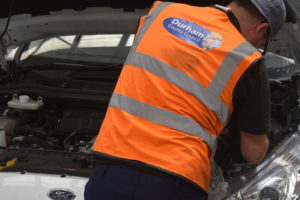 Our fleet management services provide comprehensive and wide-ranging support to ensure your compliance with road transport legislation relating to the management responsibility of operating and maintaining roadworthiness of vehicles.
Vehicle maintenance is provided at four workshops in convenient locations across the county; Meadowfield, Morrison Busty (Anfield Plain), Chilton and Hackworth Road (Peterlee). The workshops can maintain a diverse fleet of vehicles, plant and equipment.
As well as vehicle maintenance we can also provide fleet management, driver training and assessment, contract managed hire services and fabrication works. Where required we work in partnership with relevant agencies, suppliers and stakeholders to provide the support you need.
What we offer
Benefits to you
bespoke service level agreement (SLA) to suit your individual requirements

compliance with road transport legislation with appropriately trained and licensed drivers

scheduled maintenance and inspections with highly qualified and experienced staff accustomed to dealing with vehicles operating in school and other trade environments

comprehensive hire provision sourcing items in the most compliant and cost-effective way

competitively priced, specialist fabrication work by qualified staff familiar providing services to schools and other trades
Duration of service level agreement: One year "rollover".
Period of Notice: 3 months.
For more information please contact us.