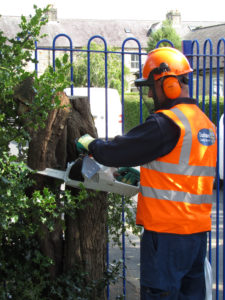 As a landlord to schools we are responsible for the arboricultural (tree management) and grounds support policy/strategy. We also ensure that the standard of school grounds and playing fields is preserved by providing general advice on grounds improvement and the inspection of trees on site.
What we offer:
an inspection of trees on site
a site visit will take place following complaints of dangerous trees or trees causing nuisance
the school will be provided with a report of works required together with estimate of the costs from approved contractors
we will liaise with an approved contractor regarding the works and be a named contact point for enquiries
we provide administration work and will gain all necessary consents on a schools behalf if trees are covered by a Tree Preservation Order, are in a conservation area or a school wishes to upgrade existing pitches/sports facilities
advice and assistance to the school with any grounds/landscape improvements, sports pitch upgrading and field drainage issues
Duration of SLA: One year "rollover"
Period of notice: 3 months
For more information or to request a quote please contact us.