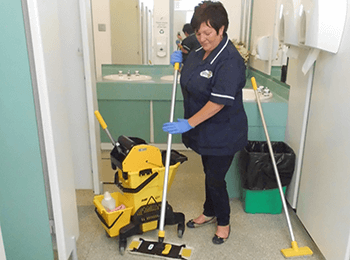 Our caretaking and cleaning services provide a comprehensive cleaning solution.
We offer two levels of support:
Caretaking and cleaning support
We work alongside you when you directly employ cleaning staff to provide support, advice and guidance in cleaning related matters. This established service has a wealth of experience in providing a tailored service to meet your individual needs. We ensure high standards of cleaning and hygiene are maintained at your site and ensure your establishment is clean and fit for purpose all year round.
Our offer:
involvement in the recruitment and selection process of caretaking and cleaning staff, including support following appointment
provision of advice, guidance and training to all new and existing caretakers/cleaning staff on all aspects of cleaning
provision of caretaking and cleaning quality manual certified to ISO 9001:2015 incorporating guidance notes and cleaning methodologies
provision of an annual caretaker training course (at an additional cost)
advice on the provision of a cost-effective building cleaning service
technical advice on the provision, cleaning and maintenance of all floor surfaces
regular inspection of cleaning standards and provision of advice as required
support in arranging additional cleaning resources following fire, flood and vandalism
advice on the provision and replacement of cleaning equipment and materials, including the arrangement of equipment demonstrations if required
support to help in the resolution of issues with a third-party cleaning provider
provision of cleaning specifications and frequency schedules in support of tender documentation for cleaning contracts where appropriate
provision of current data sheets and plans for buildings
Building cleaning
The provision of direct cleaning services is based on a bespoke assessed cleaning specification to reflect your buildings requirements.
Agreed cleaning standards are monitored, maintained and supported by a cleaning quality procedure and manual certified to ISO 9001:2015. The service is delivered on site by operatives trained to The British Institute of Cleaning Science (BICS) standard using both new and traditional cleaning technologies to ensure buildings are cleaned efficiently and remain fit for purpose.
Our offer:
development of a bespoke cleaning specification to reflect your needs
recruitment selection and supervision of cleaning staff (directly employed by us)
advice, guidance, training and support to all cleaning staff on all aspects of cleaning
provision of a cleaning quality manual certified to ISO 9001:2015 incorporating guidance notes and cleaning methodologies
advice on the provision of a cost-effective building cleaning service
technical advice on the provision, cleaning and maintenance of all floor surfaces
regular inspection of cleaning standards and provision of advice as required
provision and replacement of cleaning equipment and materials
provision of current data sheets and plans for buildings
provision of additional cleaning requirements as required, such as window cleaning and deep cleans (additional costs apply)